Greetings Friends, to the 2nd annual "Where Bloggers Create Party", Hosted by Karen Valentine, of My Desert Cottage. It will be a fun and inspiring day to visit the many Creative Spaces around blogland, so be sure to visit by clicking on the pic to the right sidebar or at the end of this party to view the list of participants. A Big Hug and Thank you goes out to Karen for her dedicated hours of work pulling this special party together.
Welcome to my party, I am so glad you are here to share some time in my Creative Space. I hope you will enjoy my fun ways to hold storage, and as we visit, please share a cup of tea and treats.
For as long as I can remember, I have made a creative space to enjoy the crafting process anywhere we have lived. From kitchen tables, basements, guest bedrooms and laundries, I have set up a spot to call my own. A place to create has always been a huge part of my life.
Growing up, I was inspired and influenced by two wonderful women, my grandma and mother. There was never a time they did not have a project in the works. I watched, listened and was always amazed at their talented ways. I hope, just a bit rubbed off on me, if so, I am very grateful. Being a decorative design and display artist has taken me in many directions, but it is always special to spend my days, Where this Blogger Creates.
Now my studio takes up the space of a third car garage. In fact, it is a third car garage converted to my studio. As my business grew, so did the need for a larger area. Measuring 12 feet by 22 feet, I have it stocked full of everything I need to create and supplies are right at my fingertips. It takes a lot of materials at times to keep my on line shoppes running smoothly and filled with goodies and although my studio is full, it is organized, workable and cozy. A dear place at all times and seasons. And I might add, the inspiration for my toile studio was inspired by Fifi O,Neil's Romantic Country office feature in one of her Spring issues several years ago. Thank you Fifi!! I still love the black toile and I don't think I will ever tire of this style!
So lets get on to the party and a walk around the room. First, I'll share the full views and then a few details of the storage I use to hold essential products. And, as we party, you will see a few favorite quotes I keep near by to inspire and dream.
Most recently I painted the storage cabinets a pretty soft fresh shade of white called "Honeysuckle Bloom" which brightened the room and adds to the natural light that pours in the space from the wall of windows across from my work table.
The following are a few favorite quotes from around the room, which always inspire me when I read them.
Thank you for coming to my "Where Bloggers Create Party." Be sure and visit the many talented bloggers to view more Creative Spaces sure to inspire and encourage us all.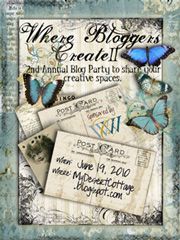 Till next time, I leave you with Rose Blessings and Pink Dreams
Hugs, Celestina Marie