Click
HERE
to visit and shop my newest hand painted treasures at my Little Pink Boutique~ Celestina Marie Designs.
And For more great fun this month, Be sure to visit and join Stephanie's Wedding Party on June 25th. Click
HERE
for details and to join the party goers.
Etsy Cottage Style is also having a Summer Roses Swap. This will be so much fun creating with a partner using a rose theme. If you are a member of Etsy Cottage Style and would like to participate, Click
HERE
for more details.
Karen Valentine from My Desert Cottage, is also hosting for the second year, Where Bloggers Create June 19th. It will be so much fun to see all the wonderful studio's around blogland. Click on the button to visit Karen and learn more details on how you can participate and join in the fun.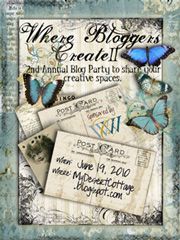 Lots of fun summertime events happening in our wonderful blogland and these are just a few that are coming up quickly. Have fun and join in where you can. Make new friends along the way and enjoy many great blogs in the process.
I'm back in the studio creating many new shabby rose treasures to offer you in the coming weeks. Thank you for stopping by and I hope you have a great weekend. See you soon.
Blessings and Blue Skies, Celestina Marie